Yerkes Road accident sends tow truck operator to hospital
A flatbed tow truck from Dobbs Family Auto Services Inc. had been sent out to Yerkes Road to remove another car that had gone off the road earlier, said deputies. The tow truck was in the road preparing to remove the other vehicle when a red car lost control and crashed veering onto the back of the flatbed striking the tow truck operator before coming to a rest sideways across the back of the flatbed.

The tow truck operator had both of his feet above the ankles amputated at the scene and was transported to Strong Memorial Hospital, in Rochester, according to deputies.

The accident is still under investigation. The woman driver of the red vehicle was still being questioned at the scene as of 6:30 p.m., said deputies.
The Canandaigua Fire Department assisted at the scene.
See Sunday's Daily Messenger for more details.
News Link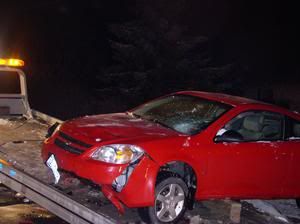 My thoughts and prayers to the operator for a speedy recovery.
Tow Truck Driver Pinned Between Vehicles
Police were called to County Road 8 in Farmington around 6 p.m. Friday for a report of a pedestrian struck.
Kenneth Moore, 27, was operating a flatbed tow truck to tow a vehicle out of a ditch when he was struck by an oncoming car.
Amy Hale, 28, was heading northbound on County Road 8 when she lost control of her car and hit Moore. He became pinned between the car and the top of the flatbed.
Moore suffered serious injuries to both of his legs and was flown to Strong where he remains in satisfactory condition.
Deputies are continuing their investigation on the incident.