Yesterday afternoon we were asked to recover a mobile crane from a boat yard in Bersledon Southampton I took the Landoll and John went ahead in his car. I had almost arrived When John called me and said i dont know how we will get the trailer down to the crane let alone get the crane out. We went down a little tight uneven gravel lane with a very low tree canopy. We deceided that we had to flat tow the crane to the main road where we could load on a flat level surface.
John raced back to pick up the 8 wheeler Daf and i used the Tractor unit to move the crane back so we can hitch to the front tow hitch. Problems we had was 1) Auto gear box can only be towed up to 10km under 6mph. I hear you say well disconect the drive well problem 2) Emergency steering pump drives off the propshaft with out it the crane is way to heavy to steer.
We loaded the crane on to the Landoll and i have to say my butt was getting abit twitchy bearing in mind the the crane had all the ballast weights on and they were all placed very high giving the trailer a very high centre of gravity When John said to me did i want him to drive i was a little happier he has bigger balls than me thats forsure.
Loaded and ready to leave.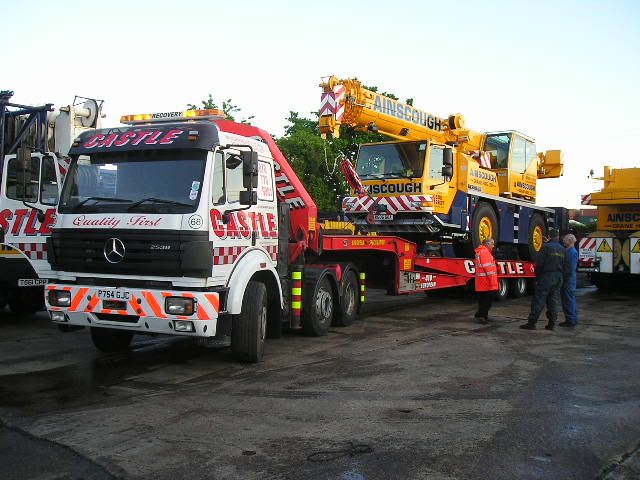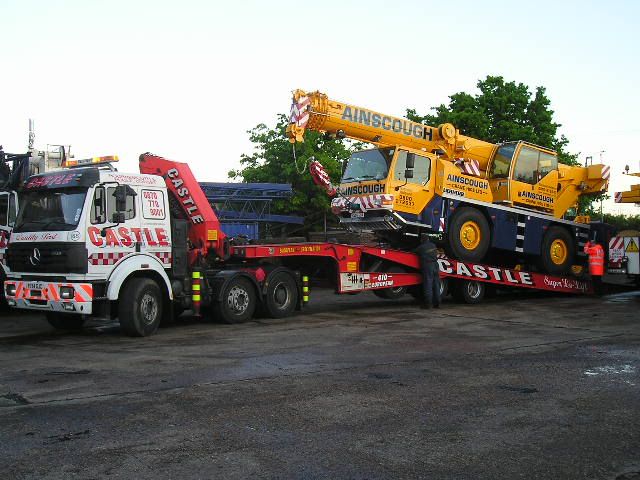 Now dropping off back at the customers depot.
Elliot...