Tow Truck Driver Killed in East Side Shooting
May 5, 2012
Updated May 5, 2012 at 3:56 PM EDT
BUFFALO, NY (WKBW) - A tow truck driver driver was shot while operating his truck near the corner of Sweet and Walden Avenues on the city's east side Saturday afternoon.
Eyewitness News crews on scene have confirmed that man behind the wheel of the tow truck was deceased, though police have not confirmed his identity or status.
Eyewitness News crews are still on scene and will bring you the latest as the story develops.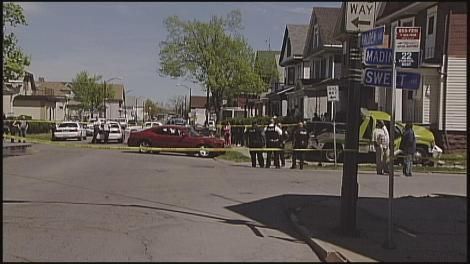 Buffalo, NY - Buffalo Police are investigating a homicide in the city's East Side that left one man dead Saturday afternoon. They were first called out to the scene for what was thought was an accident involving a tow truck.
Officials have identified the victim as Corddaryl Henley, a 25 year old Buffalo resident. He was pronounced dead at the scene.
Police say the shooting happened on Latour Steet. Henley reportedly had dropped off a vehicle at Latour Auto and was sitting inside the truck.
Officials say another vehicle, possibly silver or grey, pulled up to the truck. A black male then reportedly fired several shots at the driver.
Henley was then able to pull away and drive southbound down Latour, where it is believed he struck a parked car, fire hydrant, and another vehicle travelling westbound on Walden. He finally stopped after hitting a house at 75 Walden.
The shooter is believed to have fled the scene on Latour towards Genesee Street.
Henley worked for the Patriarch Towing Company.
Buffalo resident Patricia Bozeman told 2 On Your Side that she knew the victim for many years.
"I knew his grand mom. I knew his mom. He used to play drums in the group, the gospel group that I was signing with. I just saw him at McDonald's yesterday morning. I was so happy that he was driving for the tow truck. You know I've known him ever since he was a young kid. He never seem to me like the type of person that would start no trouble or nothing," said Bozeman.
Police say there were no other injuries in the accident. Bozeman said she couldn't understand why anyone would want to kill him.
"I'm just sick of this crime. Its so sad it bothers me. Its just like part of me, you know when they told me, when it happened you know," said Bozeman.
2 On Your Side also tried to get a comment from the Patriarch Towing Company, but a person who answered the phone there said "There is no comment on the matter."
Anyone with information is asked to call the Confidential TIPCALL Line at 847-2255 or Text a Tip at (716)847-2255 or e-mail the department
Towing procedures blamed for death
Business owner says threats are common
Updated: May 8, 2012, 2:07 PM
A former boss of the tow-truck driver fatally shot in Buffalo over the weekend said he believes the way the city handles motor vehicle crashes may have contributed to the operator's death.
Robert Corsi, of Chase Towing, also said he has been told Corddaryl Henley was threatened by another tow-truck operator with a gun the night before he was killed.
Corsi described what he said are typical circumstances in Buffalo, where tow-truck companies race to the crash scene after hearing a report over a police scanner.
It's not unusual for some drivers to threaten other drivers with weapons, Corsi said, adding that he has been threatened with a knife at a scene.
"It happens all the time with these guys," Corsi said. "It's like fighting for their food out there."
Corsi said that in most other municipalities, towing companies are put on call for a week, with several companies rotating the duty of responding to scenes.
In the City of Buffalo, however, it's first come, first served.
"It's insane," he said.
Buffalo police have not said anything about a potential motive in the case.
Mike Norris, the owner of Patriarch Towing, where Henley worked at the time of his death, acknowledges the competition between drivers at scenes, but he said it's usually verbal in nature.
The towing company that ends up with the business from a scene usually depends on whom the car owner selects, as well as input from the police, Norris said.
Because there are multiple companies competing, it can come down to which driver offers a better deal to the customer, he said.
"Everybody obviously wants the wreck," Norris said. "Everybody obviously wants to get paid to feed their family."
Henley, 25, was shot shortly before 1:40 p.m. Saturday at Walden Avenue and Latour Street, just east of Martin Luther King Park, after dropping off a vehicle at Latour Auto, police said.
Henley was still inside his truck when a gunman fired multiple shots at
him from a silver or gray vehicle.
Henley's truck crashed into the front porch of a Walden Avenue home, after striking a parked car, fire hydrant and another vehicle traveling westbound on Walden.
Henley was the father of three children and a hard worker, said Corsi, Henley's boss up until about three months ago.
Norris described Henley as a family man and a dedicated, hardworking employee who loved what he did and who taught him a lot about the towing industry.
"He will forever be remembered at this company," said Norris, who founded Patriarch Towing about four months ago and who responds to scenes as a truck operator.
After six to eight months in the towing business, Chase Towing is likely moving out of responding to crash scenes because of the danger for employees, Corsi said.
The situation could be remedied, he said, if the city followed a different process for using towing companies at crash scenes.
"It's such an easy fix," he said.
North Council Member Joseph Golombek Jr. said the city does have a law on the books, from May 2001, that requires tow-truck operators to be licensed and that says only licensed operators can be called to scenes.
Apparently the legislation's requirements have never been followed, Golombek said, in part because towing from crash scenes is not a lucrative business in the city.
There are few serious accidents, he said, and many drivers prefer to call their own tow trucks.
"I have heard horror stories" about crash scenes, Golombek said, where tow-truck drivers "start yelling and screaming at each other."
The lawmaker said he plans to review what's required in the ordinance.
City Corporation Counsel Tim Ball said Monday night that the Police Department is empowered to establish tow zones designed to ensure the best towing coverage, dispatch efficiency, response time and convenience for drivers claiming their vehicles.
It was not clear late Monday whether police have established such zones.
"Once a zone is established, only the tower assigned to the zone will be allowed to tow vehicles in the zone," Ball said.
Ball said authorized city towers are to be dispatched from a list designated for that zone on a rotational basis, but the police department will determine at the crash scene whether a tower is qualified.